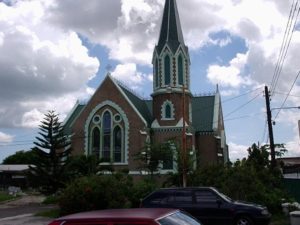 This is the mission of the church.
The foundation stone for St Margaret's Anglican Church in Belmont was laid on 25th October 1890 in the presence of the Governor, Sir William Robinson and blessed by Bishop Hayes. The church was dedicated to St Margaret of Antioch on 2nd December 1891.
The church is constructed of limestone from local quarries, the doors and windows lined with yellow brick brought as ballast on the sugar ships. These are now painted white. The church is cruciform in plan. Canon H.A Melville provided the bells with their three-fold peal and had them dedicated in 1896 in addition to the defunct organ which now serves as purely decorative and historic in function.
Under the pastorship of Rev. Buxo in the mid-twentieth century, two fine stained glass windows with modern missionary motifs were erected to flank the main window.
St. Margaret of Antioch Parish Hall and Office was destroyed by fire in May 2006. Built in the 1960's it was formerly also known as St. Margaret's College founded by Canon J. D. Ramkeesoon.
The sod-turning for our new Parish Hall was done by the Bishop, The Rt. Rev. Claude Berkley on Sunday 24th October, 2016.
The Construction was done by Cameron Waterman Services Company Ltd, (Managing Director and Contractor Dereck Belcon). The estimated cost is TT$4.2M.
Our aging congregation has so far raised TT$3.2M. We are now in the final stages of completing the areas identified with their respective costs.
As we progress towards our goal to construct the Hall without encumbrances to any financial institution, we encourage you to help us complete the good work God has begun in us all. Thanks in advance for your generous help.
VESTRY
Suzette Medina – Rector's Warden
Jennifer John – People's Warden
Anika Smart – Secretary
Vera Smart
Judith Allette
Toyer Smart
Keisha Sealy